The Instrumentals - Community Orchestras
We provide quality, accessible and inclusive community ensemble music making for string and woodwind players of all ages!
We are friendly, relaxed and un-auditioned! Joining one of our groups just requires you to have some idea about reading music and, for adults, the enthusiasm to revisit long forgotten childhood talent, or to take up a new challenge as an adult learning an instrument!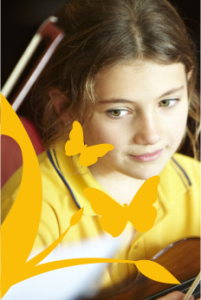 The Instrumentals offer four great opportunities for ensemble playing:
BEAN SPROUTS

-

for brand new, have-a go string beginners. Borrow an instrument and enjoy small group lessons with other beginners.
BUDS

-

for kids who have been learning for a year. The Buds learn technique and are introduced to the skills of ensemble playing.
STRING BEANS - for kids with a bit more experience. The Beans develop their ensemble technique and performance skills.
DORKESTRA - a group of adults with one thing in common - they struggle to play their musical instruments in time, in tune and with the notes in the right order… but have a lot of fun trying!