Joining the STRING BEANS
So what do I need to be able to do to join the String Beans?
You need to have been learning your violin, viola or cello for at least 1 year

You need to be having music lessons
When you join you choose your best piece and come and play it to our conductors and they will let you know which ensemble you'll fit into best.
The STRING BEANS is a children's orchestra in Perth Western Australia for young players who can read some music and have been playing for a year or more. The Beans develop their ensemble technique and performance skills.
An ensemble is like a mini orchestra. You learn to play together with other instruments, who may be playing different parts from you. You learn to follow your conductor and listen to what everyone else is playing and read the music all at the same time. Sounds tricky but it can be great fun! AND you'll soon discover what the arm waving is all about!

For more infomation email us at: info@communityorchestras.org.au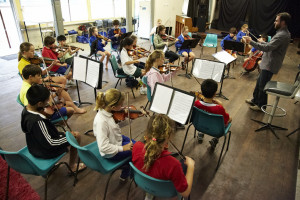 Where and When?

STRING BEANS play on Thursdays 4.00 - 5.30 pm during term time at the North Fremantle Bowling Club, 8 Thompson Rd, North Fremantle.