Having played quite a few tunes together over the years, the Dorks are now a proud — if slightly shaky — intermediate level group of adult string and woodwind players. Still working on counting, dynamics, tricky notes and remembering where to go next, we have a lot of fun trying to play our musical instruments together.

Made up of a disparate group that includes an architect, archaeologists and speech pathologists, mums and dads, a few medics, a literature professor, a lawyer, a boiler maker, a distance-ed Japanese teacher, some engineers, a care worker, an environmental scientist, a Ph.D student, a management consultant, a copyright queen and a photographer, we are conducted by our boundlessly enthusiastic and fearless maestro Daemon Clark (a real musician), we play every Thursday from 7.30 pm at the North Fremantle Bowling Club.
So what do we play?

We play an eclectic mix of western art music and popular hits.
Our current favourites include Beethoven's Symphony No.1 , Bach Suite No.1 in C, Mozart Symphony 29 and La Bamba! We also play a couple of zesty tangos and our all time faves are the short versions of Handel's Arrival of the Queen of Sheba and Rossini's Barber of Seville!

Camps and workshops
Two weekend music camps are organised each year, where we play our instruments until our fingers drop off, and enjoy delicious food, wine and general good humour! Day workshops are also run during the year.
Some pics from a recent camp at White Gum Aviation Farm: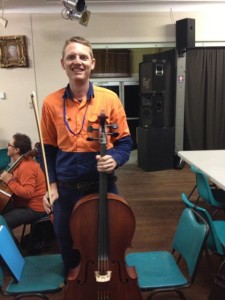 Where and when?
We play just about all year round on Thursday nights at the North Fremantle Bowling Club, 8 Thompson Rd North Fremantle.

We like to be all set up and ready to start at 7.30 pm.
Some of us sip wine whilst playing - a skill generally found to be easier for the string players than the woodwinds!